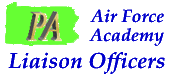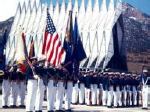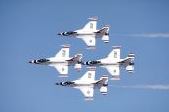 ---
Air Force ROTC in our area
The Reserve Officer Training Program enables students at participating colleges and universities across the nation, to obtain a commission as an Air Force officer after graduation from school. Students receive training through military science courses during the academic year and at two week camps during the summer. ROTC scholarships are available to qualified applicants. The following area universities have ROTC programs on campus:
Greater Pittsburgh Area
located at University of Pittsburgh, with students from the following campuses: Carlow College, Carnegie Mellon University, Chatham College, Duquesne University, Point Park College, Saint Vincent College, University of Pittsburgh
Contact your ALO for more information regarding AF ROTC or call the AFROTC Admissions Officers:
AFROTC Detachment 730
University of Pittsburgh
phone: (412) 624-6396
email: afrotc@pitt.edu
---
This website is not an official publication of the United States Air Force. Information presented here is for informational purposes and does not necessarily represent the official viewpoints, data or policies of the United States Air Force or affiliated organizations. Anyone requiring 'official' validation or verification of information, data or policies should contact Air Force Academy Admissions.
---
Last Modified: 30 June 2012